---
---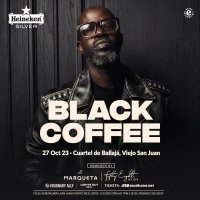 Friday October 27, 2023
Venue: Cuartel de Ballajá (Old San Juan, Puerto Rico)

Black Coffee, the South African DJ, and his upcoming performance in Puerto Rico at the historic Cuartel De Ballaja in Old San Juan! Black Coffee is indeed a renowned DJ and producer who has achieved great success, including winning a Grammy Award for Best Dance/Electronic Album. His performances at major music festivals and clubs around the world have garnered him a significant fan base.
​Picture the historic Cuartel De Ballaja, with its rich past, hosting the modern rhythms of Black Coffee. It's a blend of old and new, reminding us that music has the power to bridge generations and create timeless memories.
Imagine this: a Grammy-winning DJ from South Africa, Black Coffee, is about to make his debut in Puerto Rico. The location? The Cuartel De Ballaja, a former military marvel turned music sanctuary. The fusion of history and beats is bound to create a unique and intriguing experience.
​Get ready for a spook-tacular experience! Join us for a hauntingly good time at the Halloween Music Event presented by La Marqueta and Musikone. Mark your calendars for October 27th as we gather at the iconic Cuartel De Ballaja, right in front of the breathtaking Castillo San Felipe del Morro in Old San Juan. Get ready to dance the night away in the shadow of history, surrounded by the enchanting vibes of live music. Don't miss out on the most thrilling event of the season! Get your costumes ready and prepare for a night of music, mystery, and memories. See you there!
​The Client acknowledges that through this transaction he reserves a ticket for the event named BLACK COFFEE, which will take place at Cuartel De Ballaja on the date October 27th, 2023. This reservation guarantees the availability of a ticket for the event but does not constitute the delivery of the physical ticket for the event. Payment is made at the time of acceptance of this contract and is considered a non-refundable deposit to secure the ticket reservation. The physical ticket corresponding to the reservation will be delivered to the Customer on the day of the event in the "Will Call" area located in the immediate vicinity of the event venue (Cuartel De Ballaja). The Client must present a valid identification and confirmation of the reservation to collect the ticket. The Client acknowledges and accepts that without the physical presentation of the purchased ticket at the "Will Call" area, they will not have the right to access the venue. The Organizer/Promoter does not assume any responsibility in case the Client does not present the physical ticket at the entrance of the event's venue.
​